Welcome to OPG Konoba Kadic, Dugi Rat, Dalmatia, Croatia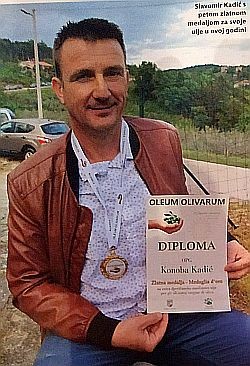 Despite its long tradition, Croatia is often overlooked as an olive oil-producing country. The quantity of olive oil it produces represents only a small drop compared to Spain and Italy, the world's largest producers.
But DALMATIA, along with Istria, happens to be the Mediterranean's northern-most olive growing regions, are now firmly on the olive map thanks to growing international recognition for its high-quality extra virgin olive oil.
Most Dalmatian OLIVE OIL makers are small, family-run outfits like ours, producing very limited quantities of this 'liquid gold'. Though they can't compete with the quantity made by bigger Italian or Spanish producers, they make up for this by making truly exceptional oils, many of which are organic.
In recent years Dalmatian and Istrian producers have been collecting a growing number of INTERNATIONAL AWARDS for their extra virgin olive oils. Out of the 40 Croatian oils that won awards at the 2018 NEW YORK INTERNATIONAL OLIVE OIL Competition.
OPG KONOBA KADIC located in picturesque small town DUGI RAT is one of them!
We are multiply Awarded domestic NATURAL EXTRA VIRGIN OLIVE OIL and WINE producer.
Our domestic WHITE and RED WINE is one of best Wines among small Wine producers in region.
In our konoba you with your friends can teste domestic meals of our TRADIONAL DALMATIAN DINNER OFFER for fish lovers, grill meat or peka gurus or vege meals from Ana's garden.
As starter we serve an APERITIF from selection of our most popular LIQUORS. Before you leave you must try Ana's sweet secret - a domestic fruit desert.
COME and TASTE awarded domestic products from our OPG Konoba Kadic and TAKE some of them with you!
Taste our multiply awarded domestic Natural Extra Virgin Olive Oil
We are known as producers of famous natural Extra Virgin Olive Oil, one of finest on Croatian market, recognized and rewarded by its quality on various Croatian and International Oil Competitions.
Come and taste it!
Read more
Try our awarded domestic White and Red Wines, one of best wines of Dalmatian small wine producers
Known as small producers of quality domestic White and Red Wines, which are recognized and rewarded by its quality on various Croatian and International Wine Festivals, we are inviting you to visit us.
Come to our Konoba to enjoy in Wine!
Read more
Traditional Dalmatian dinner with our home-made specialities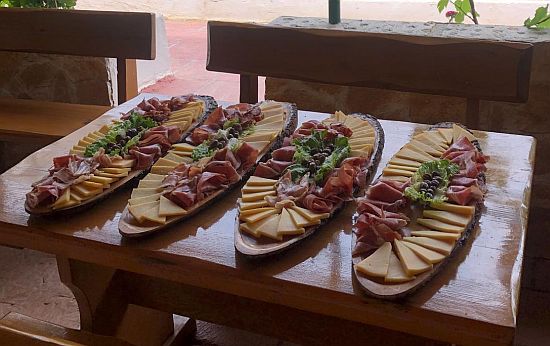 We can offer you a traditional Dalmatian dinner with our home-made specialities in the evenings for a families or group of friends in our Konoba. Ideal for family and friends gatherings or smaller festivities.
Come and visit our konoba in the evenings!
Read more
Try our most popular natural domestic Liquors
We are known as producers of awarded natural domestic Liquors. We are serving them as aperitifs before (and after) dinners, too.
Come and taste it!
Read more